Woboq Quassel Hosting
What we offer
We are offering accounts on our quasselcore.
Stay connected on IRC and never miss a message!
with SSL encrypted access
even from behind restrictive firewalls/proxies (We use port 443/HTTPS)
hosted in Germany
with high uptime
we are using Quassel since 2009 and hosting for our friends since 2011, for customers since 2012
the first two weeks are for free
Plans
At this time we don't accept new customers.
We accept payments by bank transfer, PayPal or Bitcoin.
If you want to know more
If you're interested, please contact us either via e-mail or on #woboquassel on irc.freenode.net. You'll also meet fellow users of our quassel core there.
To stay updated, you can also follow us on Twitter.
About Quassel IRC
Quassel IRC is a distributed IRC client that consists of a quassel core and a quassel client. It offers a similar experience to irssi+screen, smuxi, IrcCloud or rust. It enables you to have persistent IRC with access to your backlog from anywhere.
You can read more on Wikipedia.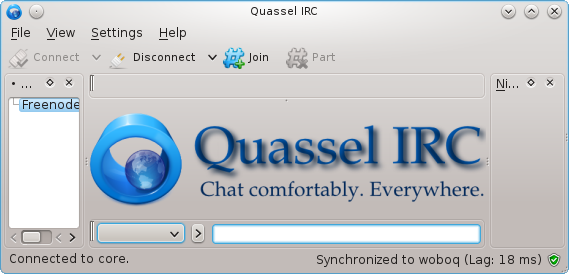 Access
Quassel is a distributed IRC client, similar to a proxy/bouncer. However instead of using a regular IRC client, you use a quassel client.
Our quasselcore will connect to IRC for you. You can then connect to the core via
SSL
SHA1 Fingerprint=7D:17:4E:76:4C:2F:FC:29:3B:38:8B:92:62:D5:11:23:9B:B1:C2:20
Testimonials
Ask users on IRC in #woboquassel on irc.freenode.net
One review on G+
Signup
Signup now and receive two weeks for free.       Sign up
© 2018 Woboq GmbH