We create Software.
How can we help you?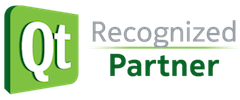 Qt / C++
Custom Qt Application Development
We are interested in supporting you in projects related to all major Qt areas (desktop, mobile, embedded). We can help you in all phases of your development cycle, from the first architecture design to the actual implementation.
Application Enhancements And Optimizations
Does your Qt application need a new feature or requires more performance optimisations? You can use our expertise to get your problems fixed.
Bugfixes And Enhancements for Qt
We have worked on Qt itself for several years. Our contributions are in many parts of Qt including QtCore, QtNetwork, QtGui, QtScript and Qt Creator.
With the new Qt contribution model, the patches we do for you can be propagated back into the main Qt source.
Qt Premium Support
If your team needs any support in using Qt, we are happy to help you.
iOS / Objective C Development
We can offer you custom iPad/iPhone application development (native Cocoa Touch). At this moment, the Apple App Store has three applications created by us. Get in touch with us to find out more.
Experience With Other Technologies
We are software geeks since we were kids. We have come into contact with a wide variety of technologies and programming languages, from low level to web technologies.
Get In Touch
Please contact us if you are interested in engaging us for a project. Depending on the project we can work remotely or on-site. Feel free to ask for references.